Head of Sociological Laboratory
After graduating from the Agricultural College in České Budějovice she was employed as an agronomist, economist and management referent in agricultural corporations for seven years. Between 1974 and 1992, after graduating from the Faculty of Philosophy at the Charles University, she worked as a researcher and a scientist at the Research Institute of Economics of Agriculture and Nurture where she participated on sociological research of agriculture and rural areas. From 1992, she works at CUA, between 1992 and 1995 as a professional assistant at the Department of Humanities, in the years 1995 –2000, at the Department of Management as a docent, since she successfully habilitated in 1996 at the Faculty of Economics and Management (FEM), CUA in Prague. From the year 2000 she is the head of the Department of Humanities, FEM, CUA. She became a professor in 2001. Her fields of interest are: social structure of agricultural corporations, sociology of management and organization of corporations, social groups in agriculture and in rural areas, social mobility vertical and horizontal, factors of living and working conditions, social phenomena and processes related to Czech agriculture and rural area and socio-economic and gender analysis. She is the project leader of the Trends of Social Changes in Agriculture and Rural Area grant.
Email: majerova@pef.czu.cz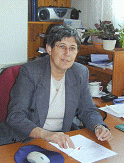 In 1982, she finished her studies at the University of Economics, Economical-Mathematical Computations. After graduation she worked as a programmer for six years. She came to the Sociologic Laboratory at FEM, CUA in September 1999.
Email: herova@pef.czu.cz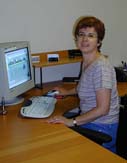 She studied at FEM, CUA in Prague. She became interested in sociology there and so she has chosen "Land and its Significance for Not Farming Owners" as the theme of her thesis. She works in the Sociological Laboratory from June 2000 and she is a PhD. student also.
Email: kocmankova@pef.czu.cz